nexo standards 2018 Annual Conference

nexo standards 2018 Annual Conference
Standardization in payments as a key strategic tool
Standardization has for many years been considered as a strategic tool or assets in various domains. More recently, as ISO 20022 messages and protocols are leading the way to an harmonized and unified way of exchanging worldwide since it is giving rise to a new wave of standardization supporting technological developments and innovation in Finance and Payments.
nexo standards has been leading the way in card payment standardisation for the past years and today, as the first industry body to be labelled as conformant to the European Card Stakeholders Group (ECSG) SEPA Cards Standardization Volume Version 8.0., is considered the main contributor to standards in this important field.
At this year's annual conference, the following topics will be addressed by our forum of card payment industry experts:
How nexo standards maturity helps addressing concrete business and internal structuring International Retailers approach on standardization and why they selected nexo standards as a strategic tool.
An overview of key EMVCo initiatives: EMV 2nd Gen, EMV Payment Tokenisation and EMV 3DS
How to initiate point of sale transactions globally using standards
The journey from smart cards to IoT, covering standards, authentication, Identification & TEE
What is the role of cooperation between major industry players in fostering standardisation, and how has nexo standards succeeded in harnessing the energies of key international stakeholders 
How is nexo standards responding to the challenge of globalisation and the emergence of alternative payment technologies 
How much are retailers starting to see the benefits of standardisation in global card payments
Confirmed Speakers
Benoit Lamoureux, Technology Payment Product Owner, Franchise World Headquarters, LLC (Subway)
Emmanuel Chaudron, Director Business Development, Amadis
Bastien Latge, Director of Technology, EMVCo
Derk Busser, Product Manager, Adyen
Gil Bernabeu, Technical Director, GlobalPlatform
SAVE THE DATE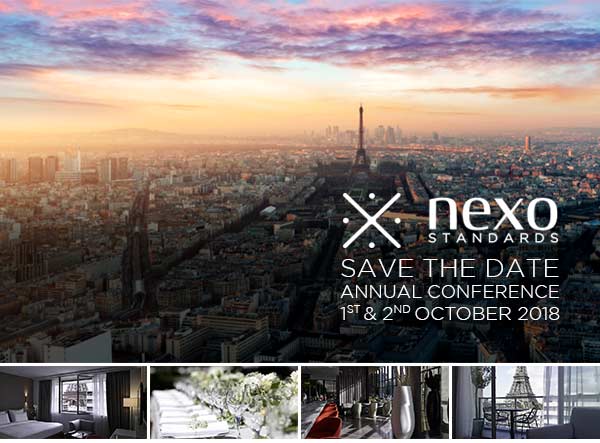 WELCOME TO PARIS
COME AND MEET THE TOP EXECUTIVES THAT ARE PAVING THE WAY FOR CARD PAYMENT INTEROPERABILITY

Register
Attend the only ISO 20022 card payment acceptance event of the year. Come hear how standardization lead to optimization and how Retailers, PSP, Processor and Vendors benefit from innovative, interoperable and open solutions. Interested in participating: http://www.nexo-standards.org/2018-annual-conference
SEE YOU IN PARIS!