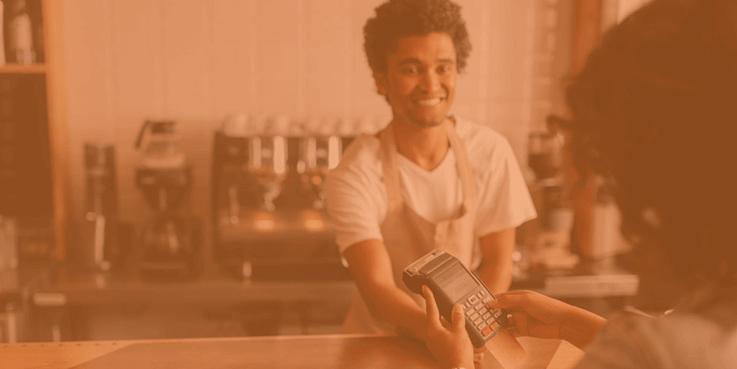 Reinventing the Wheel: How LAVEGO AG Brought Innovation to the POS with nexo standards
About LAVEGO AG
LAVEGO AG - Part of Unzer, is an expert in its craft. For over 25 years, the German girocard network provider has been enabling retailers and SMEs to accept card-based payments and benefit from a host of other value-added services. With a tech-led business model, LAVEGO pioneered a Linux-based solution and defined its own host-software and host-protocol back in 1997, before specializing in supporting the complex and unique requirements of the petrol and unattended POS (point-of-sale) market back in 2003, where it maintains strong market share to this day.
But for this tech-savvy service provider, it was the prohibitive marketplace and complexity of interoperability – both in its native Germany and across the continent - that put a blocker on its innovation and agility. This case study is an exploration of how specifications and protocols developed by nexo standards are empowering LAVEGO to realize new efficiencies both at home and internationally, and how it is channelling new resource into an open-source, innovation-led strategy that's bringing huge benefits to its customers.
Read on for an insight into:
The payments acceptance challenges facing LAVEGO.

Why nexo standards?

A note on ISO 20022.

What's next for LAVEGO.
The challenges facing LAVEGO
Domestic pain, international ambitions
The challenges of LAVEGO can largely be considered two-fold – domestic and international. In its native Germany, it was faced with a unique market – only one proprietary host was commercially available on the market that was able to connect to the girocard domestic scheme. As a result, in 1997, LAVEGO decided to craft its own.
The reasons behind LAVEGO's decision were simple – this dominance of a single proprietary system can create a less competitive marketplace, with a limited number of terminal manufacturers providing compatible hardware, leading to challenges of vendor lock-in. This can make it difficult for payment acceptance vendors to compete on a level playing field.
Crucially, as part of its ambitions, LAVEGO wanted to address what it describes as the 'post-industrial' payments market. Industrialization has happened, producing high volumes of the same product – in this case, transactions. But while now a commodity and standardized to a degree, the resulting infrastructure is very difficult to modify. LAVEGO recognized a need for, and aimed to deliver, more tailored solutions for its customers that could bring innovation to this post-industrial market.
In parallel, its business ambitions were increasingly international. But in its neighbouring markets, LAVEGO faced the same challenges to implement unique protocols to enable acceptance of comparative per-country schemes. So, not only faced with the integration of girocard in its native Germany, LAVEGO also had to contend with the numerous national debit schemes present across Europe.
After 20 years running its debut solution, in 2017, the decision was made to invest in a new platform, PaySphere. The goals were clear: the best possible security, self-service for cardholders, merchants and partners, always-online, scalable, i18n compatible, built with the principles of the reactive manifesto – and, if possible, with a protocol that is used internationally.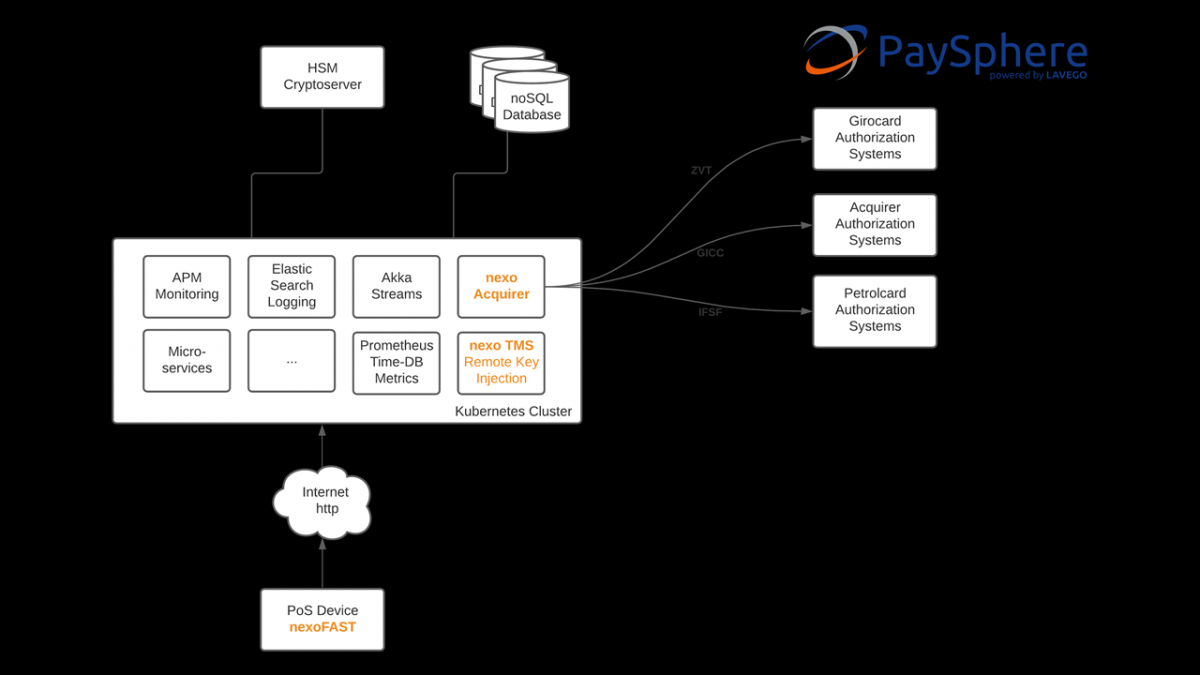 Why nexo standards?
A standardized payment acceptance solution
LAVEGO has long been a champion of standardization. By 1996, Linux was its preferred OS to other proprietary Unix-systems, at a time when nobody could have imagined how this then brand-new operating system would evolve. Today, LAVEGO is still a fan of open source; the new PaySphere-platform was built with cloud-native projects, is totally open source and was developed with a strong community.
Active in the European market, LAVEGO had seen the evolution of SEPA (Single Euro Payments Area), the creation of EPASorg, and finally in 2014, the combination of initiatives to form nexo standards. The resulting association, nexo standards, had not just a regional but a truly international agenda. But what was nexo standards all about? And how could it help LAVEGO?
nexo standards develops messaging specifications and protocols which adhere to ISO 20022 standards to enable fast, interoperable, and borderless payments acceptance by standardizing the exchange of payment acceptance messages and data between payment stakeholders. It champions a truly collaborative approach. By welcoming all payment stakeholders to its membership and working groups, nexo exists to remove fragmentation in the industry by defining and agreeing upon a single standardized approach for its payments acceptance specifications and protocols, while ensuring the needs of all players are addressed. Its membership categories include acceptors, card schemes, payment processors, PSPs and vendors.
nexo standards and its full stack of specifications and protocols provided LAVEGO with the answer to its major challenges and ambitions. Utilizing the nexo FAST (Financial Application Specification for Terminals) Specification, nexo TMS and the nexo Retailer Protocols, LAVEGO has defined a truly universal payments acceptance platform that can easily be adjusted to customer needs and operate seamlessly in a number of environments and with any nexo-host.
Here's some of the key benefits LAVEGO has been able to realize:
Control of the complete value chain. For LAVEGO to tailor solutions fit for the 'post-industrial' age of payments, it needed control of the complete value chain – from PoS-device to the host, and beyond. The nexo FAST Specification enabled LAVEGO to realize this control. It opens up market choice of EMV®-based components and hardware, while offering tailorable software on devices. All built on a foundation of an internationally-accepted protocol stack, nexo gave power, choice and flexibility back to LAVEGO.
Unified terminal management. Most terminals come with software from a third party supplier (either from the manufacturer or specialized companies), while every vendor runs its own Terminal Management System (TMS). With the nexo TMS Protocol, LAVEGO can maintain all upcoming nexo products with the same interoperable solution. Integrating the nexo TMS into its PaySphere platform can be done seamlessly via APIs.
Simplified integration of multiple payment schemes. nexo's common criteria approach enables native acceptance of local requirements, as well as support for international networks, by incorporating them into an interoperable, international, ISO-based standardized approach. Thanks to the support of nexo's German membership, acceptance of girocard requirements is now incorporated into its specifications and LAVEGO's nexo-based solution is now certified by the payment scheme. Longer term, integration and processing of other payment schemes across Europe (and beyond!) is dramatically simplified.
Ease of development. Unlike the legacy protocols it had been grappling with, LAVEGO was able to benefit from nexo's ecosystem of comprehensive, well-crafted and documented stack of protocols and implementation guidelines. nexo is XML-based, meaning it is human readable and far simpler to develop with. Another major advantage was the nexo TMS support for remote key injection, removing the need for human intervention and dramatically simplifying this crucial security element. All saving significant time and money, while reducing complexity.
Innovation. With internal resource freed from the 'firefighting' of completing testing and certification requirements, LAVEGO can release resource back into investment into new, value-added services. By utilizing nexo's more advanced, modern protocols, its capacity to create these value-added services from one system is also expanded significantly. Its PaySphere solution delivers master data management, automated online-reporting, accounting support and a host of other information such as invoice notes, VAT information, total sums, and product information to help its customers gain new insights and simplify existing processes. PaySphere is easy to integrate with other platforms such as eCommerce, to offer a true omnichannel experience.
An open business model. Crucially for LAVEGO, investment in nexo is enabling it to take its open standards-led business model to the next level and achieve the independence it craves. With the same software extended to all devices, it is free to work with numerous hardware manufacturers and partners that best suit its commercial and technical needs. This complements its PaySphere solution, which can be implemented with nexoFAST across a range of different Android devices based on customer requirements, such as mobile, unattended devices and vending machine solution.
A note on ISO 20022…
nexo standards protocols and specifications are all based on ISO 20022. Rebuilt for the modern world's messaging capacity and communication speeds, ISO 20022 defines a whole host of transactions in both payments and financial services more broadly. It is live in over 70 countries already, forming the basis of several innovation initiatives such as faster payments models. In 2009, Europe championed use of ISO 20022 for retail payments and created SEPA, while the specifications are already in place for instant debit and credit transfers in the region too.
In short, ISO 20022 offers a real opportunity to promote greater efficiency and interoperability for functions and processes across the industry and is leading the migration away from the mesh of incompatible and proprietary systems in place today. With ISO 20022 already so widely accepted by major banks and PSPs across the globe, it is a compelling option for stakeholders to maximize investment and champion use of the standards across other functions, such as card payment acceptance. This is where nexo sits, with its mission to avoid repeated fragmentation by agreeing a consistent mode of implementation and testing among payments acceptance actors.
What's next for LAVEGO?
From implementation to market
LAVEGO started its nexo project in March 2020 and is already planning nexo FAST certification and girocard support in 2021. All in all, it expects its implementation project utilizing a full stack of nexo specification & protocols – nexo FAST, TMS and Acquirer - will have taken just a year to implement – a remarkable development time.
Longer term, LAVEGO is looking to implement all existing European domestic schemes and open PaySphere for partners to use the platform as a gateway for these cards. It also plans to continue to extend its terminal manufacturer supply partnerships, adopting a multi-source model that enables it to be more responsive, cost competitive and flexible.
"In an age of 'post-industrial' payments, we want to bring payments processing back from being an inflexible commodity, processed en masse and without individualization, to a source of rich, interesting data for our customers to analyse and channel into other functions. nexo is central to this strategy.
By building in standardization to the foundation of our solution, we have the flexibility in partner choice and freed resource to be able to invest in and deliver the value-added solutions we want to put out to market. Both at home and internationally, we have the base to expand our offering seamlessly and continue to build on innovation thanks to nexo. We can't wait to see all of our ideas realized to deliver better solutions to our customers!"
Florian Gohlke – CEO, LAVEGO AG

nexo standards and the Berlin Group team up to support digital euro standards
26 th July 2023, Brussels – Technical standards organizations nexo standards and the Berlin Group have today announced a collaboration to align their standards to support the implementation of a CBDC payments ecosystem. The collaboration will help foster the development of an integrated, innovative, efficient and competitive market for retail payments, that promotes financial inclusion for...